Bristol schools all open but snow hits Bath and Somerset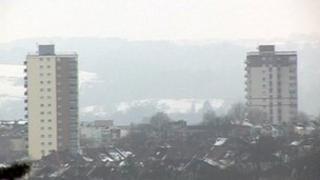 Despite overnight snowfall in Bristol most schools in the city opened, but a dozen were forced to close in Bath and North Somerset.
Flights at Bristol Airport were delayed early on Wednesday while overnight snow was cleared from the runway.
The Met Office warned of further snow during the day with a chance of several centimetres more snow falling.
First Bus said there are some diversions with possible delays in the Bath area.
Only one school in Bristol - Elmfield school for the deaf - closed on Wednesday.
Buses and trains in Bristol are operating with no delays reported.
BBC Radio Bristol is broadcasting regular traffic news and weather information on 94.9 FM.