Mayor announces Bristol arena design competition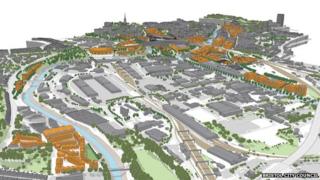 The Mayor of Bristol is launching a competition to find a design for the proposed £80m arena next to Temple Meads railway station.
George Ferguson is calling on the Royal Institute of British Architects, of which he is a former president, to help run the contest.
"It's important that this is a building that belongs to greater Bristol and serves the whole region," he said.
The winner is expected to deliver the 12,000-seat music venue by 2016.
Cost ceiling
Mr Ferguson is working with the local enterprise partnership to advance the project.
"We will set a ceiling on cost - I think that's an essential part of good design being able to design within a cost," said Mr Ferguson.
"I want to make sure that we have the sort of competition that doesn't attract one of those projects that turns into twice the price.
"It's not clever to spend too much and there are competitions which allow that and I want to make quite sure this one is an exemplary one."
A council spokesman said the competition would begin in February and be completed by the summer.
The new arena is expected to be a sustainable building.