Warning of further snow for Bristol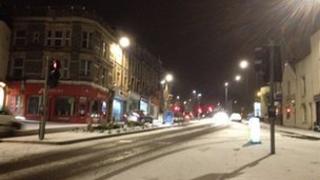 Further snow has fallen in Bristol and South Gloucestershire, with the threat of more to come.
The Met Office warned that the city would see intermittent flurries with a risk of up to 10cm (4in) on Tuesday.
An amber warning for snow was issued for the region from 13:45 GMT. Drivers have been warned to take extra care.
Flights are operating normally at Bristol Airport but passengers were advised to allow extra time for their journey to the airport.
A spokesman said poor weather conditions across the UK and Europe "could still cause disruption in some cases".
"Passengers are advised to contact their airline to confirm the status of their flight before travelling to the airport," he added.
BBC weather presenter Ian Fergusson said parts of Somerset such as the Quantocks and surrounding areas were likely to see the most snow and 20cm "can't be ruled out".
Between 06:00 and 19:00 GMT BBC Radio Bristol is broadcasting regular traffic news and weather information on 94.9 FM.