Bristol's first Muslim Lord Mayor in blood donor pledge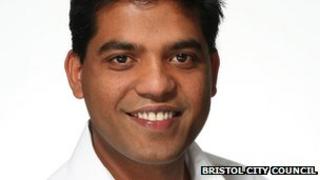 Bristol's first Muslim lord mayor has pledged to drive up blood and organ donations among black and ethnic minority (BME) communities.
Faruk Choudhury has been the Labour councillor for Easton since 2007. Aged 38, he will be one of the youngest people to hold this ceremonial role.
Mr Choudhury said: "I will do everything I can do to promote this great city for all people."
He has won cross-party backing and will remain in place until 2014.
"I would encourage more people from BME communities to come forward as blood donors and me and my wife Shilpi will both give blood during those sessions," he said.
"I had a friend here in Bristol - his daughter needed a blood transfusion but they struggled to get the blood."
He has also planned to chair every council meeting and work closely with Bristol Mayor, George Ferguson and councillors "to conduct a thorough, fair and democratic process".
Mr Choudhury is also a former restaurant owner and hopes to study law after his term in office as Mayor.