Bristol online bus fare cut petition gets 1,500 signatures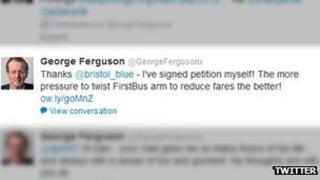 An online petition asking for the price of bus travel in Bristol to be lowered has now gathered nearly 1,500 signatures.
The petition, created by Daniel Farr, asks the Department for Transport to "force" FirstBus to reduce its charges.
The success of the petition has prompted a meeting later between the two. The company told the BBC it will not comment before the talk.
Bristol's elected mayor signed the petition last month.
On his Twitter account, George Ferguson said "the more pressure to twist FirstBus arm to reduce fares the better!".
"I thought it would only be a small petition and I never dreamed it would get to 1,400-plus, which at the moment it's on," said Mr Farr.
"It's even been endorsed by the mayor, George Ferguson, and by local councillors from all sorts of parties. I never expected the response it's got."