Clifton shoppers' parking bays suspended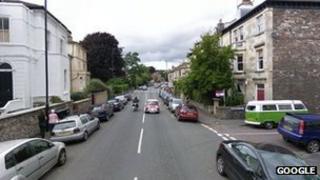 An area of shoppers' parking in Bristol has been suspended by the council after residents complained it left them with nowhere to park.
The city council lifted restrictions on Belgrave Road, Aberdeen Road and West Park - the limited waiting bays are found around Whiteladies Road.
The changes are separate to the main residents' parking zone which operates from Cotham Hill to Redland Road.
The council is considering extending a nearby residents' parking zone.
"Whenever you do a major scheme like this it's a little bit hard to predict exactly what motorists will do," said Terry Bullock, traffic manager at Bristol City Council.
"Normally we would leave it for about six months to let traffic patterns settle down and then review them. If issues do come out of them we will do our best to resolve them."
'Fighting chance'
Neil Harrison, Liberal Democrat councillor for Cotham Ward, said he was "delighted" at the changes.
"Residents in these streets were trapped between different parking zones and were really struggling to park within a reasonable distance from their homes," he said.
"I'm delighted that the council has now recognised this and suspended these bays to give them a fighting chance."
The Cotham zone allows each household without off-street parking to apply for up to two permits.
The first permit costs £30 per year and the second £80 but with no guarantee of a space.
Zones also currently operate in Kingsdown and the central area of the city.
But plans for a similar scheme in Cliftonwood were turned down in 2011 after residents told the city council they did not want it.