Bristol City Council 'must cut 330 jobs'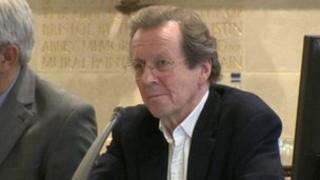 Bristol City Council must cut 330 jobs, mayor George Ferguson has announced as he revealed his proposed budget.
He said they would be mostly administrative jobs and that he estimated about 100 compulsory redundancies would need to be made.
Mr Ferguson, elected as the first mayor of the city in November, also proposed a council tax rise of just under 2%.
He must find ways of implementing a £35m reduction in spending, which is about 9% of the council budget.
The job cuts, he said, would save about £19.5m and he added that he would be "cutting from the top".
Public services union Unison said the number of redundancies was "an astonishing blow".
Mr Ferguson said the current chief executive, Graham Sims, would not be replaced.
Mr Sims was brought in as an interim chief executive in August, following the early retirement of Jan Ormondroyd, to allow the incoming mayor to decide if he wanted to recruit a permanent successor.
Mr Ferguson, an Independent, said that instead of a chief executive there would be "a chief operating officer who comes from industry and will also be head of corporate services".
He said: "I've had a very short time to do it (the budget). We only got the settlement from the government on 19 December and I was only elected the month before that."
Mr Ferguson said he had to cut a further £65m over the next three years.
"In the coming three years I hope to be able to do something much more fundamental," he said.
"We don't want to carry on with the cutting procedure, but build up from a zero base and decide what's necessary."
He said he was bringing in people from the business sector to assist with budgeting and had already had voluntary help in coming up with the proposals.
"It's important we treat running the city council as a business," he said.
"I do believe the cuts are responsible and it would be irresponsible not to put up council tax."
The savings, he said, meant he could spend £3m more on safeguarding children and young people, and an extra £3m on older people and vulnerable adults.
Ron Stone, leader of the Labour Party in Bristol, said: "This is the reality. Bristol has woken up to the fact having a mayor... has made no difference whatsoever.
"The idea the mayor would have some wonderful remit that would persuade government to do something different has been totally exploded."
Mr Stone said that as an east Bristol councillor he was unhappy about the swimming pool not going ahead and the loss of 32 PCSOs.
"You've got to add to that the police cuts," he said.
Liberal Democrat cabinet member Simon Cook said: "This is the third year we've had to make reductions in the budget. We've already had to cut £55m.
"I don't want any teams or staff put under so much pressure the whole thing breaks down."
He added: "There are things here that as a past leader and deputy leader of the previous administration I regret. I regret we can't build the recycling centre or the swimming pool, and I will go on arguing with George that maybe we can."
Conservative cabinet member Geoff Gollop said the proposals were "not written in tablets of stone" and that they were open to any suggested amendments.
Joanne Kay, regional secretary for Unison, said: "This is an astonishing blow.
"From the cuts that were announced by George Osborne in October 2010, four years of cuts, 80% to 90% of those are yet to happen.
"So people are living with the idea the cuts have happened and we are all a bit squeezed when actually we haven't see anything yet."
The proposals, made up of more than 100 individual elements, will need to be approved by a majority vote of the council.