Bath Fashion Museum: Public consultation on future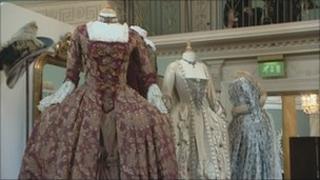 People are being consulted on a 10-year plan for the Fashion Museum in Bath.
The museum is celebrating its 50th year in 2013 and is asking the public what they see as its future.
The consultation runs until 17 February and is organised by Bath and North East Somerset Council, which runs the building.
Councillor Cherry Beath said: "The Fashion Museum houses one of the world's great museum collections of historic and fashionable dress."
She said: "It's been designated as a collection of outstanding national significance and was recently listed as one of the world's top 10 fashion museums by the international broadcaster CNN.
"Bath and North East Somerset Council is appealing to the public to help us build on this success by telling us their views so we can ensure that the Fashion Museum continues to be at the cutting edge of what people want and offers everyone the chance to enjoy a wide variety of culture and creativity."
The key questions being asked are where people see the museum in 2023, what exhibitions should be on display there, and what services should be offered both to those living in the city and to visitors.