Clevedon swimmers raise money in chilly charity swim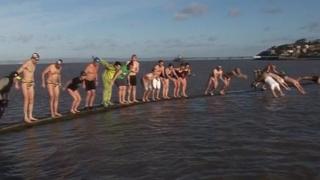 Dozens of people, many dressed as animals, have taken part in an annual New Year's Day charity swim at a seaside lake near Bristol.
The swimmers dived into the chilly water at the Marine Lake in Clevedon in support of the Secret World animal sanctuary in Somerset.
Last year, organisers said the event raised more than £500 and this year they are hoping for more.
The charity swim has been taking place for the past 20 years.
About 2,000 spectators watched the event.