Mother holds heart babies protest in Bristol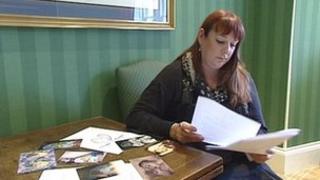 A mother whose baby died during the Bristol heart surgery scandal in the 1990s has staged a peaceful protest.
Marie Edwards has marked what would have been her daughter Jazmine's 20th birthday with a demonstration outside Bristol's children's hospital.
She is calling for improvements at the hospital after a damning report from the Care Quality Commission in October.
The NHS Trust said it had "responded immediately" to the CQC inspection and awaited results from a further visit.
The CQC report found the trust had failed to meet safety standards for staffing levels, training and support, and patient welfare.
Following the inspection the trust announced it was to reduce the number of heart operations carried out at the children's hospital.
'Fears'
This has added to the concerns of Miss Edwards, from Rimpton in Somerset, who believes that tighter checks on the results of child heart surgery in Bristol and at other specialist units, are needed.
Her daughter Jazmine died in June 1993 five-and-a half-months after heart surgery at the Bristol Royal Infirmary.
Ten years later a report concluded that between 30 and 35 children who underwent heart surgery at the hospital between 1991 and 1995 died unnecessarily as a result of sub-standard care.
Miss Edwards went on to found the group Fragile Angels which aims to raise awareness about children's heart surgery.
"The reason that I am campaigning on this day, at this location, is due to my fears that this hospital is still losing too many lives," she said.
"We need real time audits whereby death and survival data should be processed and made public to ensure a safety net and flag up any units which have had a high death rate to ensure needless life is not being lost.
"My choice hasn't been an easy one to undertake on this day, I'm not here to criticise this hospital lightly, my wishes are for this hospital to correct their failings and regain their trust with the public."
'Among the best'
The University Hospitals Bristol NHS Trust responded saying it had had remained in communication with families and was seeking to address their concerns "to the best of its ability".
Chief executive Robert Woolley said: "All paediatric cardiac surgery carries with it significant risk and these risks are explained to parents.
"Despite these risks and the complex needs of the children we care for, we have results among the best in England.
"Since 2009, a national review of children's congenital heart services has taken place which rigorously assessed the quality of care in existing centres.
"In July of this year, it was announced that the Bristol children's hospital will be designated as one of seven specialist surgical centres in England."