Easyjet passengers miss Christmas in Madeira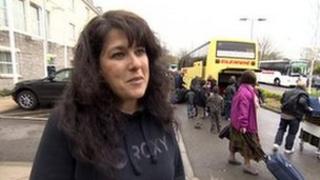 Dozens of people hoping to enjoy Christmas in Madeira had to spend two nights in a hotel near Bristol Airport when their flight could not land.
The Easyjet plane took off on Christmas Eve as scheduled but after two hours in the air, passengers were told they would be returning to Bristol.
Disappointed travellers were put up at the Holiday Inn. They were due to fly out to Madeira on Boxing Day afternoon.
Easyjet said the delay was caused by bad weather closing Funchal Airport.
Passenger Katie Curtis, from Plymouth, who was visiting her mother in Madeira, said: "We had to come back and spend Christmas in the hotel.
'Message to Santa'
"The children were really disappointed, they're only nine and 10 years old. They were very upset on the way home on the plane.
"My Mum in Madeira managed to get a message to Santa so there are presents in Madeira for them and there were presents here for them, too.
"The hotel has been great and we had a nice time here but it wasn't the same as spending Christmas with our parents in Madeira."
Agostinho Mendonca, whose wife, daughters and grandchildren live in Madeira, said: "Everyone was planning to spend Christmas together in Madeira.
"It was nice here and everybody spent it like a family together but it's not the same as being with our families back home.
"Some people had their families and children with them [at the hotel] but I was just by myself."
A spokesman for Easyjet said: "The safety and welfare of our crew and passengers is Easyjet's top priority.
"We appreciate that many of those onboard may have been travelling with us to spend the festive period with loved ones."