Filton Airport sold to developers as final flights due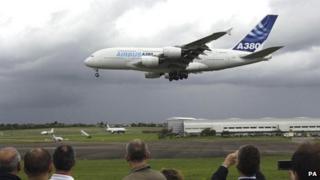 Filton airfield near Bristol has been sold to property developers in a multi-million pound deal.
BAE Systems confirmed the sale as the airport saw its final commercial flights on Friday.
It has been sold to London-based property developer Bridgehouse Capital Limited.
BAE Systems said Filton is no longer viable and announced its intention to sell the land for housing and business development in April.
Job losses
A BAE Systems spokesperson said: "We know Filton has an important place in Bristol's aviation heritage which is why BAE Systems is providing financial backing of £2m and a circa eight acre site at Filton to support the Bristol Aero Collection Trust in their plans to create an aviation heritage museum and learning centre.
"We will also be providing £400,000 of design, construction consultancy and project management support."
Filton has been in operation for more than 100 years and saw the first UK test flight of the Concorde prototype in 1969.
In 2003, the final Concorde to fly travelled from Heathrow to Filton. The jet is still parked alongside the runway.
The airfield also saw the maiden flight of the Bristol Brabazon airliner in 1949.
Despite the closure, Great Western Ambulance Service (GWAS) will continue to operate its rescue helicopter from the area. Police helicopters will also continue to be able to fly from there.
It is believed 19 people will lose their jobs at the airfield when the site closes on 31 December with up to 60 contractors affected.
South Gloucestershire Council had earmarked the site for development and wants to build 2,500 homes there.