Plans submitted for new lifeboat station in Portishead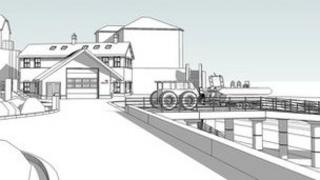 Plans to build a lifeboat station on a former Masonic lodge site in Somerset have been submitted to the council.
The Royal National Lifeboat Institution (RNLI) wants to demolish the lodge in Portishead to make way for a purpose built facility for a local crew.
The new building will house an inshore lifeboat and provide facilities for Portishead Lifeboat Trust's volunteer crew, which the RNLI plans to "adopt".
An RNLI spokesman said work could start in 2012, subject to planning consent.
The Portishead Lifeboat Trust was founded in 1995 and is funded entirely by donations.
Its volunteer crew "work in tandem with RNLI lifeboats" at Burnham-on-Sea, Weston-super-Mare, Penarth and Barry Dock.
'Mutually agreed adoption'
Tom Mansell, from the RNLI, said trustees had "agreed in principle to adopt the Portishead and Bristol lifeboat" from the trust.
"However, the RNLI will be unable to do this until a suitable operations site has been identified and the requisite shore facilities put in place to enable an RNLI B class inshore lifeboat and its launching equipment to operate effectively," he said.
"This means a long term permanent facility, built to RNLI standards, must be a real option before adoption can continue."
But Dave Herbert, from the Portishead Lifeboat Trust, said he was "pleased" plans had been submitted.
"This is the next positive step towards what we hope will be the mutually agreed adoption of The Portishead Lifeboat Trust by the charity," he said.
If planning consent is granted by North Somerset Council, a fundraising campaign will be launched in "support of the project", an RNLI spokesman said.