Bristol Old Vic theatre creates memories audio archive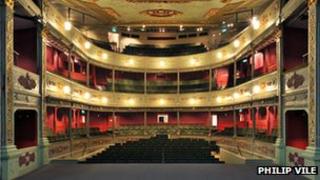 Conquering nerves before dancing naked on stage and being ordered to 'get out' by a ghostly woman are just two of the memories which make up a new audio archive at Bristol Old Vic theatre.
The idea for the project came from the theatre's artistic director Tom Morris.
"When I arrived in 2009 I realised that this beautiful theatre in particular had sparked-off memories for generations of audiences in a very special way," he said.
"It's one of the most loved theatres in the country and it belongs to its audience, so we decided we would invite members of the public who had been to the theatre to return with a memory of it so that we could record it."
One man who responded to the invitation had come as a child to see pantomimes in the 1930s but had not been since.
"He was away for over 70 years and he took us back into the theatre, sat down in the seat where there used to be a bench and as he was sitting there he suddenly remembered a song which a pantomime dame had sung to him and he sang it for us and we recorded it," said Mr Morris.
Ghostly encounters
More recently 26-year-old Ava Maginnis, from the Totterdown area of Bristol, remembered waiting in the wings on the right-hand side of the stage before a performance.
"It was May Fest 2010 and it was a cold, dark night," she said.
"There were 15 or 16 of us waiting to go on and we had to be quiet even though we were really nervous.
"I sat in a big armchair so I wasn't buzzing when I went on stage naked. I remember feeling fear because it was a big event, but not because I was going to be naked."
The archive also includes a memory from the senior project manager working on the theatre's recent refurbishment.
"Stair 10, the escape stair from the auditorium, has been the bane of my life since March 2011," said Andy McGoldrick.
"There used to be two staircases and I remember at one point standing here and thinking 'we've knocked all this down and we're still not sure we can make this work'," he said.
"Finally we put in the new staircases and handrail and all of a sudden it made sense and that was quite rewarding."
And ghostly encounters also figure in the archive.
Peter O'Toole
Andrew Stocker, the duty manager who has worked at the theatre for 30 years and who also conducts tours, tells how one night a security guard was checking the back door in the Pitt corridor was locked when he suddenly smelled lavender perfume waft across his face.
"His dog, an Alsatian, wouldn't move and started barking and he absolutely didn't believe in ghosts and just told the dog to shut up. Then he heard a woman's voice behind him," said Mr Stocker.
"He turned around but there was no-one there. Then he heard two words: 'Get out'."
The most famous person to leave a memory tag in the theatre is the director Richard Air.
"Richard Air works in theatre because he remembers seeing Peter O'Toole playing Hamlet here in the 1950s," said Mr Morris.
"That was the memory which for him sparked off a whole career in theatre."
The new archive uses an indoor positioning system accessed via smartphones.
"Anyone will be able to come in and essentially you'll have a pair of headphones on and then you'll be able to walk through the building and when you get near the place where someone has left a memory you'll get some clues there's a memory there," said Mr Morris.
"When you're in the exact place where something happened to someone that they remembered, you'll be able to hear them talking about it."
The archive is expected to be up and running by the end of January.