Paul Keene strangled fiance after 'verbal abuse'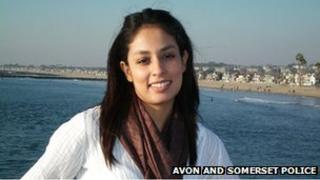 A mother subjected her fiance to months of verbal abuse which caused him to snap and kill her, a court has heard.
Paul Keene, 32, strangled Carmen Gabriela Miron-Buchacra, 28, in a drink-fuelled rage.
Bristol Crown Court was told there had been constant arguments and Miss Miron-Buchacra had believed her fiancé wanted to take her newborn baby away from her.
Mr Keene, of Bath, denies murder but has admitted manslaughter on the grounds of loss of self-control.
The court heard that Mexico-born Miss Miron-Buchacra had allegedly tried to stop her fiance, of Bennett Street, from going out with friends and work mates and had accused him of not spending enough time with his family.
In a police interview, Mr Keene claimed she would accuse him of trying to take the baby and had threatened him, saying she would take their daughter to Mexico.
He said on one occasion Miss Miron-Buchacra had told him to take their newborn baby Eleanor for a walk but had phoned him minutes later in hysterics.
"She said 'bring my baby back now, you will never take my baby away from me, come back now'," Mr Keene said.
'Scratched him'
On returning to their home he said she had started throwing things at him and scratched him while he held the baby.
He said: "I kept saying to her to calm down and I would give Eleanor back to her.
"I said you're getting angry and told her to go and sit in another room to relax and that I wasn't going anywhere with Eleanor."
Mr Keene, an administrator for a financial services firm, and Miss Miron-Buchacra were planning to marry in the autumn of 2013.
She was found dead on the bedroom floor of their first-floor Georgian flat in Bath by emergency services shortly after midnight.
Mr Keene told the police he loved his fiancee and their baby and was just trying to be a father.
He added he had no plans to take Eleanor away from his fiancee but had contacted a solicitor after he found a search on Google for "how do I take my baby away?".
He claimed Miss Miron-Buchacra had threatened to take the baby to her family home in Mexico and that while he did not want to believe she would take their baby away, he did think she was capable of it.
'Raised his hand'
The court also heard from Miss Miron-Buchacra's aunt, Maria Buchacra-Agiss, who told the jury - in a video link to California - that her niece had called her crying and hysterical.
Ms Buchacra-Agiss said: "She was telling me that Paul Keene said to her he was going to take the baby away from her.
"She told me that two weeks before she found out that she was pregnant that Paul had hit her.
"She said he 'raised his hand', but that means for us that he hit her."
The trial was adjourned until Monday.