Bristol Mayor in Filton Airfield closure study call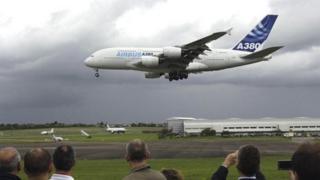 Bristol's mayor is calling for an independent economic study to be made of the regional impact of the planned closure of Filton Airfield.
The airfield, the birthplace of the British-built Concorde jets, is to close on Friday.
Its owner BAE Systems says Filton is not viable and intends to sell it for housing and business development.
George Ferguson said an assessment was needed to find what "the real economic impact might be" of the closure.
"I am getting such varying stories from one side or the other about the importance of the airfield to the region and, without an independent look at it, it is difficult to make a sensible planning decision for its future," he said.
"I want to leave South Gloucestershire (Council) to make that. It's their decision not mine.
"But I do think from the city-region's point of view that it is vital that we get this right and that we do drill down into what the real economic impact might be."
'Pioneering industry'
Mr Ferguson, who became mayor last month, said: "I have a terrible feeling that BAE Systems are taking the short-term economic option rather than thinking long-term about it.
"What would be the worst thing is if we lose some of that expertise and some of that pioneering industry from Bristol because of the loss of the airfield."
BAE Systems said the airfield was closing following a comprehensive assessment over a five-year period and an independent review, "both of which concluded that the airfield was not economically viable".
The company said: "The decision to close was made in consultation with airfield stakeholders including Airbus whose business will not be disadvantaged by the airfield's closure.
"BAE Systems is committed to developing the airfield for business and residential use and is supporting a new museum at Filton to house Concorde Alpha-Foxtrot and Bristol's aviation heritage."
Airbus has said it is fully committed to the Filton site.
A spokesman said: "The closure of the airfield will have no significant effect on our business and we have mitigation plans in place regarding the change of venue for our passenger shuttle (using Bristol airport) and the transportation of the A400M wings (via Portbury docks).
"Airbus has a lot of experience moving wings by land/sea - our A380 wings made in north Wales are moved by this method already."
'Staggering'
South Gloucestershire Council said its core strategy planning framework, which could allow up to 2,500 homes to be built on the airfield site, was in response to BAE's decision.
It said it was seeking to safeguard the future of the local aerospace industry by including an advanced engineering employment zone.
Bert Hindle, chairman of the Save Filton Airfield campaign group, said he would welcome an economic study.
"It is about time somebody looked at the full potential of a working airfield," he said.
"This needs to be done from the perspective of the UK economy, rather than a private company wishing to cash in at our expense.
"We called for a study over a year ago, it is staggering that one has never been carried out."
The closure of the airfield will be featured in Inside Out West on BBC One in the West on Monday at 19:30 GMT.