Kate Hoax nurse: Memorial is held in Bristol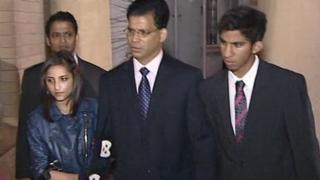 A memorial mass has been held in Bristol for the nurse fooled by a hoax call to the hospital treating the Duchess of Cambridge.
Jacintha Saldanha was found dead in her nurses' quarters in London on 7 December.
She had been caught out by a call from Australian radio presenters pretending to be the Queen and Prince Charles.
On Thursday an inquest heard she had been found hanged and there were injuries to her wrist.
The inquest at Westminster Coroner's Court was adjourned until 26 March.
'House is empty'
Mrs Saldanha, a 46-year-old mother of two, from Southmead, Bristol, was remembered in a service led by Father Tom Finnegan at the church she attended in Filton on Friday evening.
A statement read out by Father Finnegan on behalf of her children said "the house is empty without you. You only wanted the best for us, the best education the best life".
Mrs Saldanha's husband, Benedict Barboza, added in the statement that his wife had been the "light in the dark since we met" and that "it feels like a part of me has been ripped away".
Dozens of candles were lit in her memory by members of her family and the congregation, during the mass at the catholic church of St Teresa.
A service for her colleagues took place at King Edward VII's Hospital in London on Friday morning and another service is due to be held on Saturday at Westminster Cathedral in central London.
Mrs Saldanha transferred the telephone call on 4 December to a colleague who then gave a detailed update on the duchess's condition to the hoaxers.
The duchess, who is in the early stages of pregnancy, was receiving treatment at King Edward VII's Hospital for hyperemesis gravidarum, an extreme form of morning sickness.