Bath student's killing recorded on mobile phone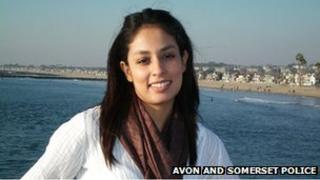 The sound of a man murdering the mother of his newborn daughter was recorded on a mobile phone, a court has heard.
Paul Keene, 32, strangled Carmen Gabriela Miron-Buchacra, 28, in a drink-fuelled rage at their Bath flat, Bristol Crown Court was told.
The attack was captured in an answerphone message on the phone of a friend of the couple.
Mr Keene, of Bennett Street, denies murder but has admitted manslaughter on the grounds of loss of self-control.
Prosecutor Michael Fitton QC said Mr Keene could be heard swearing at his partner and threatening to kill her during the seven-minute call on the night of 23 June.
The court heard it was recorded on the answerphone of Ben Jones and revealed how she was repeatedly punched in the face, and strangled with a dressing gown cord and electrical cable.
'Increasingly annoyed'
After the call, Mr Keene sent text messages purporting to be from PhD student Miss Miron-Buchacra to Mr Jones saying she was OK.
Mr Keene, an administrator for a financial services firm, and Mexico-born Miss Miron-Buchacra were planning to marry in the autumn of 2013.
She was found dead on the bedroom floor of their first-floor Georgian flat by emergency services shortly after midnight.
The court heard Mr Keene had spent the day playing boules with work colleagues in Bath and had then met friends in the evening for food and drinks.
Meanwhile, Miss Miron-Buchacra, known as Gaby, was at home looking after their daughter and was becoming increasingly annoyed at Mr Keene's decision to go out for the day.
Mr Fitton said: "By 8:45pm she had made it clear she was not going to let him in at home that night."
Mr Keene arrived home at 22:30 BST having drunk eight bottles of beer and a bottle of lager and cider.
He threatened to kick down the door if Miss Miron-Buchacra did not open it, the court heard.
'Sound of choking'
It was at that point she phoned Mr Jones - who had been out with Mr Keene that night - and asked him to take the defendant back to his home in Chippenham.
Mr Jones told her he was already on the train home.
He later realised there was a message on his mobile phone that was an argument between Mr Keene and his partner.
"He could hear that Gaby was crying and was accusing Paul Keene of being drunk and to get out and leave the flat," Mr Fitton said.
"The sound of choking can be heard. There are sounds of banging and screaming and her last words 'please don't' and there is silence."
Mr Fitton added: "Her death was not instantaneous and it lasted a significant period of time.
"Our case is that this defendant lost his temper with Gaby that night and when he lost his temper he hit her with his fists and he saw that he had made her bleed.
"That would, we suggest, be enough for any man of good character to come to his senses.
"He must have known he had hurt her and she was screaming, but he continued, despite her pleadings to stop."
The trial continues.