Bristol Cathedral service remembers lost babies'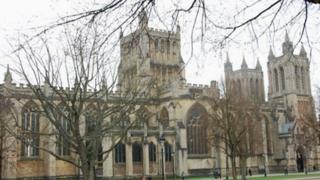 A service has taken place in Bristol Cathedral to acknowledge and remember babies who died during pregnancy or in infancy.
The Saying Goodbye service was open to people "of all faiths and no faith".
Saturday afternoon's event was organised by Zoe and Andy Clark-Coates from Devon who have lost five babies themselves.
It was intended to give those who have experienced loss the opportunity to meet others in similar circumstances.
'Supportive environment'
"Having lost five babies, we experienced first-hand how loss can affect you, Mrs Clark-Coates said.
"We wanted to create services that would give a wonderful goodbye to babies that have been lost, and allow the parents to grieve in a supportive environment.
"When you have parents saying 'this is the first time in 50 years that I am being able to grieve and say goodbye', you understand that whether it happened yesterday or half a century ago, the pain is still there, and people need help and support."
The couple say they are organising similar events in a number of other towns and cities during 2013 .