'Upcycling' trend reaps rewards for Bristol charities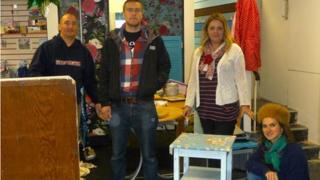 Think about the current thirst for reclaimed or vintage homeware and the Harry Enfield and Paul Whitehouse sketch about Notting Hill housewives paying thousands for any old tat springs to mind.
But the pulling power of "upcycling" or restoring "pre-loved" clothes and furniture and selling them for profit as retro collectables is not to be sniffed at.
While there may be some shops run along the lines of 'I Saw You Coming' in Harry and Paul, more and more charities are taking advantage of the "shabby chic" craze to re-invent the charity shop model and raise money for good causes.
And thanks to the "Portas effect" after Mary Portas put the spotlight on charity shops in her show Queen of Shops, many charity shops have shaken things up and are charging more as a result.
When Oxfam launched its vintage section online it saw sales through its website shoot up by 400%.
The service, which allows Oxfam's 700 shops to post vintage items for sale online, was set up three years ago after the charity noticed more people were typing the word "vintage" into the website's search box.
For shoppers strapped for cash who want something eco-friendly and unusual to brighten up their home, the choice has never been so varied.
Happytat, a new charity recycling project in Stokes Croft, Bristol, opened at the beginning of December to raise funds for recovering addicts and homeless people.
It was set up by former estate agent, Steve Hutchinson, 26, who wanted to give those lacking in confidence or experience a chance to boost their skills and CVs by restoring donated furniture.
The volunteers work with local artists to breathe new life into "dead" furniture and turn it into quirky collectables.
The upcycled pieces are then sold on to raise money for the community project Love Bristol and Crisis Centre Ministries, a Christian charity which helps the homeless and the unemployed.
Those who work on the restorations can leave with experience and a reference to help them get back into work.
'Design ethos'
Mr Hutchinson said: "The people I spoke to really wanted something to do that would help them get back on the employment ladder.
"It's a greener way of recycling, and the profits go back into the community.
"We do anything from wallpapering cabinets to reupholstering chairs and repainting sideboards."
Unlike with the unscrupulous Marcus in Harry and Paul, Mr Hutchinson says prices are affordable and in line with the work that goes into them.
He said: "People like the idea that they can pick up unique items for low prices and they are helping charitable causes at the same time."
Vicky Beckwith is general manager at re:work in Knowle West, a social enterprise set up in 1999 to provide unemployed people and young children excluded from education work experience.
They have been selling revamped furniture in their shop at Filwood Broadway since 2004.
She said: "I think there is more awareness and desire for retro furniture and it's definitely more marketable now than it was when we started.
"There's a whole design ethos that goes with upcycling - people like to see donated furniture restored and to have a well-priced alternative to flat-packed.
"We aim to make people more employable and give them more self-confidence."
And for charity shops on the High Street, a thirst for more vintage fashion has meant many are now treading the upcycling route.
Former fashion student Ruth Strugnell is deputy manager at CLIC Sargent's relaunched 'Shop' on Gloucester Road.
The shop is the charity's first dedicated vintage store and has proved so popular with fashionistas with an eye for a bargain, that Ms Strugnell now spends four days a week in her studio, creating fresh garments from donated clothes.
She said: "I do anything from changing collars and pockets on denim shirts to making dresses out of sheets or even jackets out of tent fabric.
"People don't have much money at the moment and upcycling has become very trendy."
Her work has proved so desirable, the charity is soon setting up an online boutique on the fashion website Asos.