Clevedon Hospital: MPs Poulter and Fox criticise NHS trust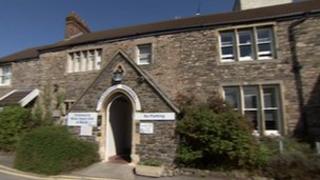 The sudden scrapping of plans for a new hospital in Clevedon is "extraordinary" and "completely unacceptable", a government minister has said.
NHS North Somerset was due to approve the new £15m project in July but it was cancelled in June.
Health Minister Dan Poulter made the comments after it was raised in the Commons by North Somerset MP Liam Fox.
NHS North Somerset said it was still committed to providing services for people in the Clevedon area.
During the debate, the Conservative minister, a former NHS hospital doctor, said: "I am alarmed by what my right honourable friend has told me today that the business case was to all intents and purposes approved and suddenly between March and June the business case was then disapproved and that to me seems quite an extraordinary turn of events."
'Managerial shambles'
Dr Fox said he had raised the matter in the Commons because NHS North Somerset had been evading questions on the matter.
The Conservative North Somerset MP, who was a GP before entering Parliament, added that £3m had already been spent on the plans.
He also said the preferred bidder may be in the process of trying to recover costs it incurred when redesigning the new facility.
He said: "It is clear that there has been a managerial shambles, so it is the management that should pay the price not the people of Clevedon and the surrounding area.
"Responsibility, accountability and transparency are all we seek and surely that is not too much to ask."
NHS North Somerset has said it is now drawing up a report on how it plans to provide services for people in Clevedon.