Attacks on women in Bristol 'may be linked'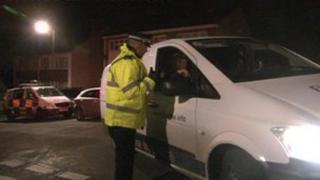 Police investigating an assault on a woman in Bristol say it may be linked to others earlier in the year.
The latest victim was attacked from behind in Furber Road, near St George. She had parked her car and was walking towards Bryant's Hill.
Det Insp Mike Buck said he "wasn't ruling out" a link to two other nearby attacks in May.
Officers carried out house inquiries and spot checks on cars in the area on Wednesday evening.
"[On Wednesday 28 November] at 9.30pm, a 24-year-old woman parked her car and walked back down towards Bryant's Hill," Mr Buck, who is leading the inquiry, added.
"As she [got] closer to the junction, a man came out from behind a wall at the bottom of the road and attacked her.
'Other attacks'
"Fortunately at that point a car came around the corner and the offender fled back up Furber Road.
"There were two other attacks in May, both within half a mile [of Furber Road] and I'm certainly not ruling out any link with this incident."
Mr Buck said the link was a "key line of inquiry" but he would not exclude the possibility that the incidents were unrelated.
The two other attacks occurred in the Kingswood and Hanham areas of the city.
Police said the Furber Road suspect was white, about 6ft tall, with dark hair and blue eyes.
He was wearing a dark jumper, jeans and gloves. He also had on a dark 'beanie' hat on and a scarf covering his lower face.
As part of the investigation, police are also looking to trace a man and two youths on bikes who were spotted on CCTV in the area at the time of the Furber Road attack.