Anni Dewani murder: Husband 'terrified' of car travel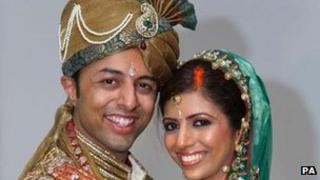 A businessman wanted in South Africa over the honeymoon murder of his wife in a taxi is now "terrified" of travelling by car, a court has heard.
Shrien Dewani's 28-year-old wife Anni was shot when a taxi the couple were travelling in was hijacked in the Gugulethu township in November 2010.
Mr Dewani, who is being treated in a secure mental health hospital, denies plotting to kill his wife.
He faces extradition to South Africa but a UK court has blocked this.
'Symptoms worsened'
Mr Dewani, from Bristol, is being treated for depression and post-traumatic stress disorder (PTSD).
His lawyer Clare Montgomery told Westminster Magistrates' Court his symptoms have worsened, rendering him a "husk of a man".
She said: "He cannot travel by car as he has a severe reaction, he doesn't want to get into a travelling car or go outside."
"He doesn't even want to go to the shops on his own," she added as the conditions of his bail were discussed.
"In his current state it is unthinkable he would be able to plan any escape, let alone effect one," she said.
The court heard that Mr Dewani has a "withdrawn" attitude and spends his time in a disused camper van outside Fromeside Clinic in Bristol playing computer games.
He has flashbacks and remembers the breath of a man holding a gun to his head, the court was told.
Hugo Keith QC, representing the South African authorities, said the 32-year-old does not see himself as a patient at times, that he has fought against treatment and has been aggressive towards staff.
District Judge Howard Riddle agreed to allow him to switch from Fromeside to Blaise View mental health hospital in Bristol, which was described as a more "open, relaxed and calm environment".
Judge Riddle also set 1 July 2013 as the date on which the proceedings should continue.
Time to recover
In March, the High Court ruled that it would be "unjust and oppressive" to extradite him to South Africa, as his mental condition had deteriorated since his arrest.
His lawyers want proceedings to be halted for a year to give him time to recover.
Mr Dewani faces charges of murder, conspiracy to commit murder, robbery with aggravating circumstances and obstructing the administration of justice - all of which he denies.
In November Xolile Mngeni, 25, was found guilty of Mrs Dewani's murder by a judge in Cape Town.
Mngeni's co-accused have said they helped kill Mrs Dewani, 28, on the orders of her husband.
Taxi driver Zola Tongo says he was approached by Mr Dewani, to organise the killing and make it look like a carjacking. He was sentenced to 18 years in prison following a plea bargain.
In August, Mziwamadoda Qwabe was sentenced to 25 years in prison after admitting shooting Mrs Dewani.