Bristol mayor to take on cabinet positions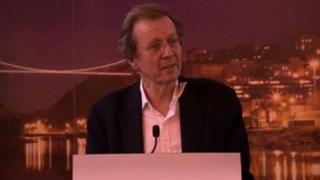 Bristol's mayor is taking on extra work - after Labour blocked its councillors from joining the city's cabinet.
Labour's National Executive Committee said it wanted the party to be free to form a constructive opposition.
Mayor George Ferguson will use voluntary advisers to help him take charge of transport, planning, education and social services.
Mr Ferguson said he had wanted Labour to take the positions as a reflection of the number of votes in the election.
The other positions will be taken by Gus Hoyt for the Greens, Simon Cook for the Liberal Democrats and Conservative Geoff Gollop.
Mr Ferguson said he would review the situation following elections in May 2013.