Westerleigh rail landslip: Line reopens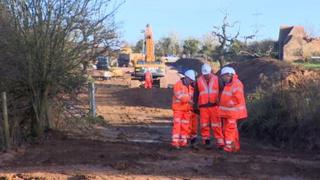 A rail line which was partially closed after a landslip during heavy rain in South Gloucestershire has reopened.
Part of a bank alongside the railway at Westerleigh collapsed on Wednesday, meaning many services were either cancelled or diverted.
Network Rail said it had to build a temporary road to the site before it could begin repair work.
The firm brought in more than 4,000 tonnes of earth to shore up the embankment.
The closure was affecting services to Bristol Parkway from both Birmingham and Swindon.
The line currently has a 20mph speed limit but this could be raised later on Monday.