Bristol rally for NHS workers against regional pay plan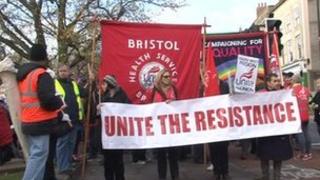 Hundreds of NHS workers have protested in Bristol about proposals to regionalise their pay system.
Members of the trade union Unite marched from College Green to a rally at Castle Park.
A consortium of hospitals and health trusts want to regionalise pay to meet what they call unprecedented challenges in healthcare and job security.
Union members say it is an excuse to make wage cuts and will fragment patient care.
The South West Pay Terms and Conditions Consortium, set up in June, says a regional instead of national approach could protect jobs and care standards.
'Race to bottom'
Chairman Chris Bown, said: "Trusts continue to seek to engage with staff representatives, including unions, on issues arising from the work of the south west pay, terms and conditions consortium."
Unite's Rachael Maskell said introducing local pay deals "is a race to the bottom for staff and services and will eventually lead to the fragmentation of services for patients."
Royal Bournemouth and Christchurch Hospitals NHS Foundation Trust withdrew from the scheme in November.
There are 19 trusts remaining in the regional consortium.
The South West consortium is due to advise its member trusts on options for change before the end of 2012.