Bristol union announces first Christmas postal strike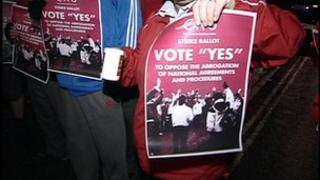 Union representatives have announced the first in a series of planned strikes by postal workers in south Bristol ahead of Christmas.
The Communication Workers Union (CWU) said it had informed Royal Mail of its intention to take industrial action on Monday 10 December.
Bristol CWU area official David Wilshire said the decision came after a break-down in negotiations over workload issues.
Royal Mail said it was "disappointed".
The 24-hour walk-out will mean no deliveries by postal workers at the depot in Mead Street, Bedminster between 00:01 and 23.59 on that date.
Bristol CWU area official David Wilshire said: "Management still fail to grasp the extent of the problem they have caused and continue to bury their heads in the sand.
Rounds too large
"We will be meeting our members at the depot on Tuesday morning to prepare for the strike."
Last week about 80% of workers at the depot voted to stage walkouts over workload issues.
Delays in getting post from the Bedminster office to the BS4 (Knowle) and BS14 (Hengrove) areas began at the start of November.
Thousands of items of mail were left undelivered, which Royal Mail said was due to staff sickness, but the CWU said was because delivery rounds were too large for workers.
Royal Mail said: "We are urging staff based at Mead Street to continue working as normal and to allow the nationally agreed process for resolving issues of concern to continue.
"We are disappointed they have decided to take industrial action on a peak day in the run-up to Christmas, which is our busiest period as we deliver customers' Christmas items."
But it said it had contingency plans in place to maintain services.