Bristol teacher's 'shock' at school attack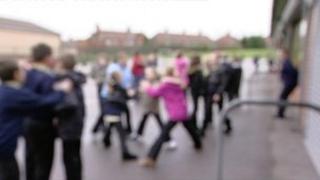 A former teacher has spoken of the "shock and upset" she felt after being attacked by a child during a lesson.
A Freedom of Information request by the BBC has found the number of attacks on teachers in Bristol has risen by more than 40% in three years.
The woman, who did not want to be identified, was assaulted almost two years ago while restraining a violent pupil at a Bristol school.
"He turned round and he elbowed me in the ribs, which winded me and made me release him," she said.
"As I released him, I thought he was just going to run off but he kind of stopped and looked at me.
"He had a kind of split-second decision and he swung for me and aimed for my face but he was so short he caught my neck and my shoulder."
'Very shaken up'
She said she was left "in pain, winded and very shaken up" after the incident, which left her so distressed she was sent home.
"[I was in] shock really because there's always a respect between pupils and teachers. Pupils don't hurt members of staff," she added.
"Fair enough, he's in trouble - normally the kids just run and try to hide from teachers - but the fact that he actually stood there and consciously decided to use violence because he wasn't happy, I was just really shocked.
"I'd always felt safe within school, I work with children, and it kind of dawned on me that I was very vulnerable."
The woman had been a teacher for seven years before the incident. She left the profession six months later and said she was still "upset" at the outcome.
"I worked hard to be a teacher and I really did enjoy it," she added.
"But to be honest I'm quite glad that, if that's the system, then I don't want to put myself at risk of working in an environment like that."
'Not complacent'
The Freedom of Information request by BBC Points West found there were 246 reports of physical or verbal violence between January 2006 and December 2008.
That rose to 351 cases in January 2009 to December 2011 - a 43% increase. More than 300 of those cases involved physical violence.
It equates to three attacks on teachers in the city every week.
A Bristol City Council spokeswoman said the authority was "not complacent" about the figures and took them "very seriously".
Meanwhile the number of attacks has gone down in schools run by neighbouring councils.
South Gloucestershire saw 269 cases between 2006 and 2008, with 84 between 2009 and 2011.
In Bath and North East Somerset, the figure was 91 between 2006 and 2008, and 63 between 2009 and 2011.
A spokeswoman from the NASUWT teaching union said any assault or episode of violence was "unacceptable".
"If the [Bristol] figures have gone up by 40%, I think that is very shocking. It's quite a high rise and urgent action needs to be taken to rectify it," she said.