Bristol City FC stadium inquiry delay 'ludicrous'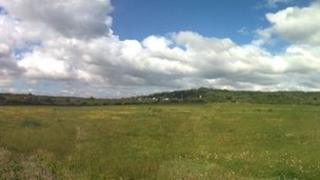 The owners of land earmarked for a football stadium in Bristol have criticised a delay over an inquiry into its use as "ludicrous".
Bristol City FC want to move to Ashton Vale but the development has been blocked by a town green application.
A first inquiry recommended Ashton Vale should become a town green but Bristol City Council went against the decision which resulted in a judicial review.
The group opposing the stadium said the delay was down to the landowners.
Vence, the firm that owns the land, said waiting for a new inquiry in October would be "costly".
It said: "We have pushed this week for a full hearing to take place in public as soon as possible, and at the very latest by June 2013.
"However, potential problems with childcare during the holiday period were presented as a reason why this timeframe would not be suitable for the applicants' legal representatives and witnesses."
Planning permission
A spokesman for Save Ashton Vale Environment said: "The delay in reopening the inquiry until October is due to the landowners' insistence that 10 days would be necessary for their evidence to be fully examined and responded to.
"Far from pressing for the inquiry to be held as soon as possible, the landowners' lead counsel Jonathan Karas QC was unavailable for that length of time until the end of June 2013.
"Thereafter the school holiday period was discounted as most witnesses would be unavailable and the other parties including the Inspector were not free until October.
"The real unfairness here is to the local residents who must endure a second inquiry when they have already proved their case for the village green."
A meeting on Wednesday set a potential date for a second inquiry to hear new evidence as 7 October 2013.
A spokesman for the city council said this would mean "a further year or more of uncertainty and indecision".
The club was first granted permission to build at Ashton Vale in 2009.
But a year later an independent inspector ruled the area should be a town green.
The council disagreed and said the land should be shared as a town green and a stadium.
But the issue was referred to a judicial review and in June, town green campaigners and Bristol City Council agreed to end legal proceedings.
The second public inquiry will be held using new evidence and the council has said it will abide by the inspector's decision.