Bristol Water roadworks cause 'nightmare' for traders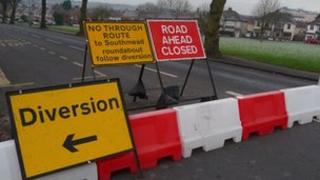 Traders say long-term road closures along a busy route in Bristol have had a "dire" impact on their businesses.
Bristol Water is laying a £22m water main to serve north Bristol with roads in Henleaze and Westbury Park sealed off for several weeks.
Pub owner Lucas Post says he has lost staff because his takings are down 50%.
Bristol Water says the pipe will secure its future supply and it will compensate companies that have suffered losses.
A long stretch of Wellington Hill West in Henleaze has been closed to cars since mid August, much to the dismay of some businesses there.
There have also been complaints from residents nearby who claim their streets are being used as rat runs by drivers trying to follow the diversions.
'Cut off'
Mr Post, who runs the Beehive pub on Wellington Hill West, said: "It's been a nightmare.
"We have lost around 50% of our profits.
"We opened our new restaurant last year but the road outside has been closed since mid August.
"I'm really worried about Christmas bookings as we can't advertise to passing traffic and access to our car park is still cut off.
"Our new chef left because I couldn't offer him enough hours and the compensation doesn't cover what we've lost."
Some companies fear that because the roads have been inaccessible for so long, they will never get back the customers they have lost.
Donna Westmoreland, who owns the Spar shop at the corner of Cransley Crescent, said: "It's had a massive impact on footfall and on profits because we do a lot of business from passing trade with people stopping in their cars to pick up lunch.
"People are now avoiding the area because of the closures and my concern is those people won't come back when the road is open."
Businesses in Westbury Park have also been affected by temporary traffic lights as work is carried out on another stretch of the pipe.
Increase supply
Olly Gallery, who owns Italian restaurant Prego and tapas bar Manna on North View, says: "It's been one thing after another as the road has been closed for new flats and now this, so we have been affected for nearly a year. It's been dire.
"We know we're down on last year and it has been tough as people have been put off from coming as they can't park close by."
The scheme will see 10.2km of new water pipe laid to increase supply and meet the demand from the new Southmead Hospital and housing developments in north Bristol.
Works started in October 2011 and are due for completion in spring 2013.
Bristol Water spokesman Paul Kelson said: "We are nearly finished with the phase of work in Wellington Hill West.
"There is some very heavy duty rock down there which we were not expecting.
"For any business that has suffered losses we have a compensation scheme. It's hard on everybody but the work is necessary to enable our supply to be more flexible.
"We have been in extensive talks with councillors and residents in the area, and have listened to their concerns."
Bristol City Council said Wellington Hill West will be open to traffic again this Sunday when it will be regulated by traffic lights.