Work starts to fix railway landslip near Bristol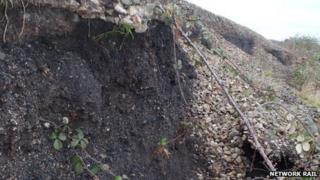 Work has begun to bring in more than 4,000 tonnes of earth to shore up a landslip on a rail line near Bristol.
On Wednesday, part of a bank alongside the railway at Westerleigh collapsed, meaning many services were either cancelled or diverted.
Network Rail said it had begun to build a temporary road to the site to enable it to get machinery to the landslip.
A spokesman said they were currently "on track" to fix the problem by next Wednesday.
"There is a requirement to build an access road to enable access by large plant for remedial works," a spokesman said.
"Around 4,000 tonnes of material will be needed to rebuild the embankment."
On Thursday, the Secretary of State for transport, Patrick McLoughlin, visited the site to inspect the work.
He told BBC Bristol: "A lot has been done in the past 20 hours but there's a lot of work still to do.
'Unsafe'
"Network Rail are working around the clock and against the clock to get this fixed as quickly as possible.
"Looking at the way the bank has slipped, it is very dramatic in terms of the work that's got to be done to make it safe.
"I know it will annoy some people having to wait so long but I don't think anybody can doubt how serious we are about maintaining safety
"It would be unsafe to run on that track at the moment."
CrossCountry services travelling from Birmingham are currently being diverted via Wales and the Severn Tunnel.
First Great Western's high-speed services from London Paddington to Wales are either being cancelled or diverted through Box.
Services going from Bristol Parkway to Birmingham and Swindon are being slowed down.