Safety fence plan for River Avon in Bath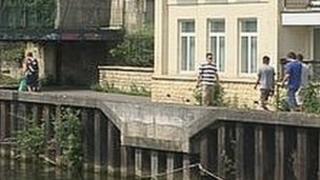 Plans to install a safety fence along the River Avon in Bath have been announced by the local authority.
It follows the deaths from drowning of three people, between Windsor Bridge and Churchill Bridge, in recent years.
A report by the Royal Society for the Prevention of Accidents (Rospa) recommended that fencing be installed in the long term.
But Bath and North East Somerset Council is to move the plan forward after a series of consultations.
Following meetings with Avon Fire and Rescue, the Environment Agency, the River and Canal Trust and the River Corridor Group, the council is to discuss a £140,000 proposal for an 850m (2,800 ft) fence.
The council has already implemented the painting of ladder gaps to make them more visible and cut back hedges and weeds to keep the river path clear.
Student deaths
Councillor David Dixon said: "The council and its partners have taken swift action to implement many of the key recommendations in the Rospa report that will make the River Avon safer for people on foot and who use bicycles.
"We've particularly worked hard on putting together a detailed proposal to deliver the edge protection at one of the most vulnerable sections of the river as quickly as we possibly could."
The Rospa report was commissioned by the council and Avon and Somerset Police after the deaths of Kharunigan Jayanatham and Caspar Flagg in 2009, and James Bubear earlier this year.
Mr Bubear was a student at Bath Spa University and Mr Jayanatham was a University of Bath student.
The fence proposal will be discussed at a cabinet meeting on 5 December.