Filton Airport closure date is confirmed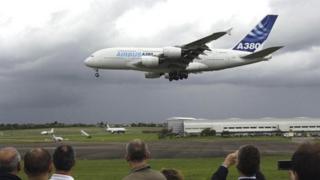 Flights to and from Filton Airfield near Bristol will cease in December, its owner has confirmed.
BAE Systems said it would close the airfield at the end of the year after it was found to be no longer viable.
Plane-maker Airbus operates flights at the airfield for its employees who work nearby.
Filton has been in operation for more than 100 years and saw the first UK test flight of the Concorde prototype in 1969.
In 2003, the final Concorde to fly travelled from Heathrow to Filton. The jet is still parked alongside the runway.
The airfield also saw the maiden flight of the Bristol Brabazon airliner in 1949.
BAE said it would halt operations on 21 December before its final closure 10 days later.
Despite the closure, Great Western Ambulance Service (GWAS) will continue to operate its rescue helicopter from the area.
It is believed 19 people will lose their jobs at the airfield when the site closes with up to 60 contractors affected.
The land is due to be sold for development and 2,500 homes could be built there.