Homes evacuated after landslide near Bristol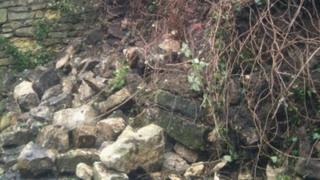 Six homes were evacuated after a large landslide caused by heavy rain in Old Sodbury, near Bristol.
Several thousand tonnes of earth moved in the slip, which happened shortly after 08:00 GMT on Sunday.
People living in the houses were taken to a local pub while engineers checked the area. Several families have still not returned home.
The affected families included some with young children, according to the owner of the Dog pub.
Another landslide on Friday, in Bath, led to the evacuation of several homes and a house lost part of its garden.
Elsewhere in the area firefighters are pumping out water from an electricity substation in Portishead.
A Western Power spokesman said there was no risk of a power cut as the cables are not affected by the water.