Labour councillors agree Bristol cabinet role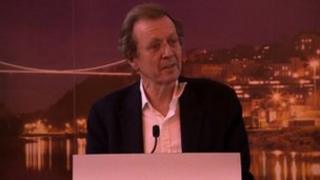 Bristol independent mayor George Ferguson has invited a former council leader to be his deputy mayor.
Labour's Helen Holland has been offered the role while colleague Mark Bradshaw will be invited to be executive for transport and infrastructure.
Previously, local Labour party members voted to boycott the cabinet but councillors have gone against this.
Mr Ferguson said it was "good news for Bristol" while Labour leader Peter Hammond said he was "satisfied".
'Politics changed'
"This is all about burying differences," Mr Ferguson said.
Architect Mr Ferguson won the mayoral election last week with a total of 37,353 votes, ahead of Labour's Marvin Rees.
Mr Hammond said: "There are still areas we might discuss and there are still areas we continue to disagree on.
"They key thing for us is actually doing firstly what the people of Bristol expect us to do and secondly recognising that with George's win that the politics of Bristol have changed significantly."
Labour will be also offered a third cabinet place while three other positions will be offered to different parties.