Avon and Somerset Chief Constable Colin Port to step down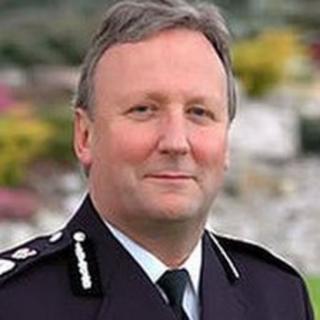 A chief constable is to step down after refusing to re-apply for his own job.
Colin Port announced he would not seek the renewal of his contract with Avon and Somerset Police, a day after Sue Mountstevens was sworn in as police and crime commissioner (PCC).
It comes as around England and Wales many PCCs have been sworn in on the day the police authorities are replaced by the new role.
Other commissioners have already begun to make changes to their forces.
In a statement, Mr Port said Ms Mountstevens had told him she intended to "start the process to recruit a chief constable" to take the force "forward".
He said: "I told her I had no intention of applying for my job."
'Great job'
Deputy Chief Constable Rob Beckley will take over as acting chief constable when Mr Port leaves. He will also cover the role during the recruitment process.
Ms Mountstevens, who won the election to be the region's first PCC, was the only independent candidate to stand in Avon and Somerset.
She said as Mr Port only had nine weeks left to run on his contract, she wanted the job to go out to a "competitive process" as soon as possible.
"I asked him to apply and he said he wouldn't apply for his job and that he would think whether he would resign or not.
"I would not to be able to renew his contract for long - it would have only been for a year - and I want a chief constable that can work for the foreseeable future for Avon and Somerset.
"Colin Port has done a great job - it's just that we are not going to be able to work long enough together with him just being on a one-year contract."
She said she wished him the very best for the future.
'Terrifically proud'
In his statement, Mr Port confirmed he would be retiring from the police service on 26 January 2013 at the end of his fixed-term appointment.
"I am terrifically proud to have led Avon and Somerset Constabulary, whose men and women have delivered so much in partnership with the police authority," he said.
"I am sad to leave and stunned by the many messages of support I have received overnight from police officers and staff, ACPO colleagues, partners and friends of Avon and Somerset Constabulary.
"To all of them, I say thank-you."
Sir Hugh Orde, president of the Association of Chief Police Officers, said: "Colin Port has led Avon and Somerset Police with distinction over the last eight years, reducing crime and raising public confidence, steering the force through a period of major change and handling a number of high-profile criminal cases.
"His skills and experience will be a big loss to the service."
Mr Port was appointed head of Avon and Somerset Police in January 2005 after transferring from Norfolk Constabulary, where he was deputy chief constable.
His career began with Greater Manchester Police in 1974 and he also served with Warwickshire Police.
In 1994, Mr Port worked for the United Nations as investigations co-ordinator with the International Criminal Tribunal for the former Yugoslavia.
He was also director of investigations for the International Criminal Tribunal for Rwanda.
Between 1999 and 2002 he was seconded to Northern Ireland to investigate the circumstances surrounding the death of Rosemary Nelson, the human rights lawyer killed by a loyalist paramilitary group in 1999.