Bristol Rovers' ground Sainsbury's store bid delayed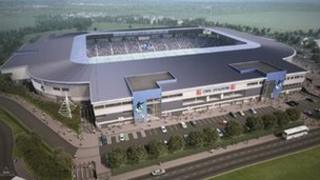 Bristol Rovers Football Club will have to wait until the new year for a decision over the future of its Memorial Stadium ground.
Supermarket chain Sainsbury's wants to build a store on the ground and the club would move to a new stadium in Stoke Gifford, South Gloucestershire.
It would be built on land close to the University of the West of England.
The city council said it wanted more time to consider the effect a stadium would have on traffic in the area.
'Robust' application
Club manager Nick Higgs said the city council had asked for some more "technical issues" to be considered.
"It would be pointless us going to a planning meeting in November or December until these plans have been addressed," he said.
"Sainsbury's are very professional in what they do and it's their application and not mine.
"They've decided with the city council they'd rather wait until 16 January so when the application is heard by members it is a very robust one," he added.
In July South Gloucestershire Council approved plans for a 21,700-seat stadium subject to certain conditions.
These include provisions for the local transport infrastructure and the prevention of uncontrolled on-street car parking near the stadium.
The new stadium is conditional on Sainsbury's being able to build its store on the Memorial Stadium site in Horfield.