Royal appointment for jobseekers who set up in business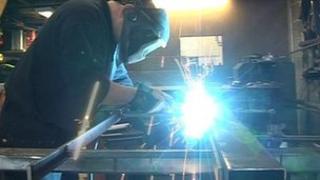 Four years ago Shaun Clements lost his job.
But, on Thursday in Bristol he will meet the Queen as a man who runs his own business and employs others.
It has been quite a journey from redundancy to company director.
Mr Clements could not have done it without a charity that guides people through the paperwork.
He said he has always enjoyed metalwork, but until 2008 it had been a hobby.
Then, the day before his firm stopped for Christmas, the 45-year-old lost his job as a workshop manager at a lorry firm, when the recession started to bite.
Job centre queues
Jobs were thin on the ground. Unemployment in the city jumped from 6,877 in November 2008 to 8,172 by January. Nearly 1,300 people had joined the queues at the Job Centres.
"It was awful, of course it was," Mr Clements remembered. "But actually the redundancy gave me a kick, made me do what I'd always wanted to do, but never dared."
He decided to spend his redundancy on welding gear and set up a workshop making gates and railings.
He already had the skills, but knew little about starting a business.
The paperwork, he said, was daunting: "Tax, VAT, invoices, rates, all that sort of stuff. To be honest with you, the welding's the easy bit."
Mr Clements was guided through the process by Justin Ricks, an enterprise advisor with a charity called Outset Bristol.
So far, over 1,000 people have been to their courses, resulting in 158 new businesses being set up in the city.
As one of the charity's success stories, Mr Clements will be among those who will meet the Queen at the Gatehouse Centre in Bristol as part of her tour of city.
As well as the practical advice, Outset also helps people think through whether setting up shop is right for them.
Mr Ricks explained: "A lot of people do something they are passionate about and they enjoy.
"As well as earning a living, it gives them back confidence after they've lost work."
And, of course, they are no longer on benefits.
Mr Clements is even employing another metalworker in his workshop. Across the city, nearly 200 people have been employed by firms that Outset Bristol have helped start.
He had a redundancy cheque to set up his workshop. But for others, finding cash can be a real barrier. So Outset have now teamed up with another charity that provides loans to people that the banks have turned down.
The Fredericks Foundation was set up to lend small amounts of money to new start-up companies which other banks and lenders would not touch.
The foundation has just issued its first loan, by giving £10,000 to two young Bristolians who want to start a new sports business.
Even though the companies are high-risk, 79% of the money is repaid.
But Caroline Duckworth, who runs the scheme in Bristol, said she was wary of that figure rising.
She said: "If too much of the money is coming back in, it means we're not being brave enough, we're just backing safe bets, and Fredericks is all about lending to people the financial system has rejected."