Bristol house fire: Injured boy, three, 'opens his eyes'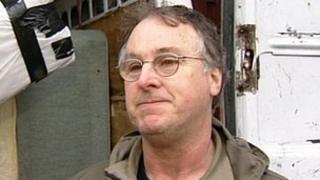 A three-year-old boy who was critically injured in a house fire has opened his eyes, his step-grandfather has said.
Paul Tree said Harry "had a peaceful night" after a five-hour operation at Frenchay Hospital in Bristol on the 50% burns now covering his body.
Nine people, including four children and a baby, were woken on Saturday by a fire in the house in Lodge Hill in the Cossham area of Bristol.
Avon Fire and Rescue said the incident was not being treated as suspicious.
Mr Tree said: "Yesterday afternoon we thought he'd taken a turn for the worse.
"They took him off the life support machine and his breathing was a problem.
'Woke up'
"We assumed he had a problem but it was a natural process, the doctors explained, to try and get his lungs working again.
"They stabilised him and he's back under on the life support machine.
"He had a peaceful night and this morning he actually woke up and he opened his eyes for the first time. Wonderful, wonderful news."
Donations are continuing to pour in to help the family, who had no contents insurance.
Mr Tree said they had "lost absolutely everything" and were "absolutely overwhelmed" at the response from the public.
He said: "The phones have just been red hot and people have been offering all sorts of support.
"It's not only the support they give us, it's also the kind phone calls."