Bristol Lord Mayor Peter Main has cancer treatment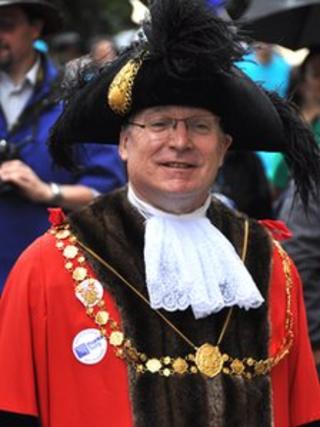 Bristol's ceremonial lord mayor is to receive treatment for prostate cancer.
Councillor Peter Main told a meeting of the city council he expected to be out of action for six weeks in the new year. His deputy will take up the role.
"I'm pleased to be able to say that the prognosis is positive, and we are hopeful that a period of treatment... will be fully effective," he said.
Prostate cancer is the most common male cancer in the UK. In 2009 41,000 were diagnosed and more than 10,000 died.
Councillor Main said although he felt guilty about not being able to live up to expectations for all 52 weeks of his term, he knew people would understand.
"I hardly started my year of office aspiring to become a poster-child for prostate cancer.
"I hope that from my experience, some good comes from all the men listening now going home later and familiarising themselves with the symptoms to be aware of," he added.