Portishead marina bar made from shipping containers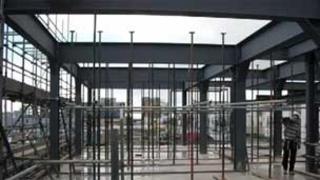 More than 100 old shipping containers are being stacked and bolted together to create a new bar and restaurant at Portishead marina.
The first 28 containers have been lifted into place on the quays to form the ground floor of the development which will create 55 jobs.
The design is intended to pay homage to the quays' industrial marine heritage.
The recycled containers were previously used to bring imports from China before being modified at Felixstowe Dock.
"Portishead Quays operated as commercial docks for many years so we felt that it provided a perfect setting for a development made with shipping containers," said Rupert Wheeler of Mackenzie Wheeler architects.