Cautious optimism for Bristol's new independent mayor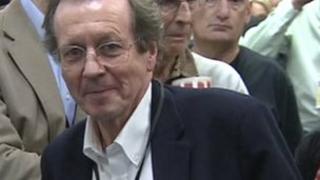 When he walks into his new office on Monday morning Bristol's first directly-elected mayor knows he has to make an immediate impact.
George Ferguson, 65, set up the Bristol 1st party so that he could be distinguished from other independent candidates and won with a total of 37,353 votes, 6,094 more than Labour's Marvin Rees in second place.
He has promised to deliver an arena for the city and to ask for permission to found an integrated transport authority to sort out the city's transport issues.
But with just 28% of people eligible to vote bothering to have their say he will have to work fast to engage with appears to be a jaded electorate.
Cliff Hanley, 64, an artist and writer from Southville was one of the few to use his vote.
"Transport is the first priority," he said.
"I do a lot of walking, you have to as there's no real alternative.
"The problem is Bristol is built on hard rock so you can't easily make a tube system but having an elevated railway is a possibility.
"Then housing - we need to return housing to public ownership - it should never have been sold off.
"I think George is excellent at making contacts and I'm optimistic to see him in action."
Mr Hanley's hopeful take on the election and new mayor is shared by student and part-time delicatessen worker Caitlin Campbell, 19, who lives in central Bristol.
"It's the first time I've been able to vote," she said.
"I was involved in the last election posting out leaflets for the Liberal Democrats and found the whole process inspirational but then it all ended in disappointment.
"I think having an independent mayor will be really good for Bristol. He knows the city and the people but I don't think building an arena should be a priority.
"I'd like to see private landlords held accountable and rated to force accommodation standards up and improve tenants' rights.
"I'll judge Mr Ferguson on what he does."
Butcher Josh Richards, 26, did not vote.
"I would have if I'd been in the UK but I wasn't going to stop a holiday to vote," he said.
"I don't think there was enough information about the election or the candidates. I had no face-to-face contact so I didn't bother.
"From what I've seen he seems the most likeable and the mayor needs to be for the people so I'll watch and see."
Martha Lipman, 19, a figure skater who lives in central Bristol did not vote either.
"I didn't know enough about it," she said.
"I do think Bristol should have better sports facilities though and public transport should be reliable and cheaper - it's not at the moment, it's awful."
Businessman Tom Murray, 56, from Henleaze used his vote.
"Transport is the big issue," he said.
"There's a lack of parking because of all the bus lanes and that effects small businesses.
"Whiteladies Road used to be vibrant but it's dreadful now and bringing in controlled parking hits workers who then have less to spend so it's like a domino effect."
Mr Murray wants to see competition for First Bus to drive down ticket prices and and support for small businesses.
"It's going to be a learning curve watching how he performs - he's party-free and for the people and the city so I'll watch with interest," he said.