Avon and Somerset PCC election: Sue Mountstevens wins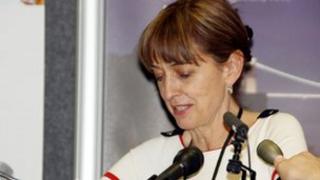 Independent candidate Sue Mountstevens has been chosen as Avon and Somerset's first police and crime commissioner.
The ballot went to the second round as neither Ms Mountstevens or Conservative Ken Maddock secured 50% of the vote.
Ms Mountstevens said: "Effective policing is essential to our well-being in Avon and Somerset - I want our residents to be safe and feel safe."
In the second round, Ms Mountstevens secured 125,704 votes, while Mr Maddock came in second place with 67,842 votes.
"We are fortunate to have an outstanding police service in Avon and Somerset - officers, staff and volunteers [are] hard working, talented and brave," she said.
"However in these tough, economic times we will have to make priorities clearly and work increasingly efficiently.
"I am committed to improving police performance on anti-social behaviour, burglary and violent offences, especially against women and girls.
"And just as important, I will listen to all our residents, especially the quiet voices, to understand their needs and help shape police priorities across the whole of Avon and Somerset."
Ms Mountstevens, a married mother of three, was a member of the Avon and Somerset police authority before stepping down in order to stand in the election.
She has also served as a magistrate for 15 years on adult, youth and family cases.
She was the director of the well-known family business Mountstevens Bakeries.
The firm opened its first shop in Bristol in 1911 and had more than 90 outlets across the South West, employing about 1,300 people.
Ms Mountstevens begins her four-year term on 22 November after she has taken the oath of impartiality.
Although 18.8% of the electorate in Avon and Somerset took part in the election, turnout remained one of the highest in the country.
There were a total of 9,190 spoilt ballot papers.
Blank ballots
BBC Somerset political reporter Danie Linsell said: "The interesting thing isn't so much the number of them, but the way in which they've been spoilt.
"Many had lines drawn through them, others were simply blank, while some voters used their ballot paper to make statements."
Across the force area 243,963 people voted out of 1.2 million eligible voters.
As police commissioner, Ms Mountstevens will take over from the police authority and be responsible for controlling the budget and setting police priorities.
She will be paid a salary of about £85,000.
Ms Mountstevens will also have the power to "hire and fire" chief constables but will not be involved in the operational side of the police force.
The out-going police authority has said it needed to save a further 12m during 2012-13.
Next year, the police commissioner will have to make difficult decisions over whether to increase the police share of the council tax bill or make further cuts to balance the budget.