Bristol's Clifton Downs 'targeted' in anti-congestion plan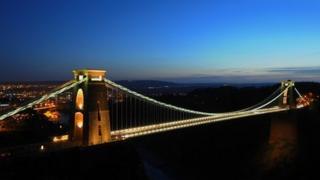 Digging up part of Bristol's Clifton Downs to build an underground car park has been suggested as a means of tackling congestion.
Tony Miles, of Clifton Village Traders' Association, said he wants to see work carried out on the edge of the Downs opposite the top of The Mall.
Mr Miles said the facility was needed if the area's shops were to survive.
It is one of a number of suggestions proposed in a £5,000 competition to rid the city of its daily gridlock.
The inspiration behind the prize comes from the competition that led to Isambard Kingdom Brunel's design for the Clifton Suspension Bridge.
'Good transport links'
Peter Hargreaves, of stockbroker Hargreaves Lansdown, will judge the entries along with Guy Kingston, the chairman of the Federation of Small Businesses (FSB).
Mr Kingston said small businesses needed good transport links to survive.
"Whether it is an idea that will improve transport on one road junction in the city or a scheme that encompasses the whole area, we want to hear it," he said.
"Ideas don't necessarily have to involve new infrastructure, or changes to existing infrastructure.
"The plan is to present the best ideas to the city's new elected mayor and the council. The FSB will then campaign to have them implemented."
A £1,000 prize is also on offer from the Association of British Drivers with the aim of improving parking in Bristol.
The competition runs from 13 to 27 November.
The Downs was originally owned by the Society of Merchant Venturers, but was given to the public and protected by an Act of Parliament in 1861.