Bristol postal workers vote over strike action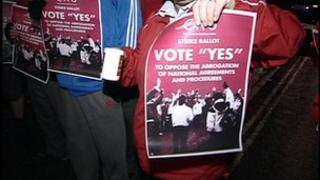 Ballot papers are being sent out to postal workers who could hold strike action over workload at a Bristol sorting office.
The Mead Street office was left in "chaos" after thousands of items were left undelivered, according to the Communication Workers Union (CWU).
Royal Mail apologised for the early November delays saying there were high levels of sickness at the office.
A spokesman said plans were put in place to deliver the items.
David Wilshire, from the CWU, said managers were "continuing to ignore the fact that delivery rounds are too large."
The delays in post getting from the Bedminster office to the BS4 (Knowle) and BS14 (Hengrove) areas began at the start of November.
Mr Wilshire said managers from Swindon had been drafted in by Royal Mail but this had caused more delays as they did not know the area.
He added that in the last year, seven jobs had been cut which had added to the pressure on workers to take on more deliveries.
About 100 people work in the office.