Bristol mayor: A look ahead to George's first day in office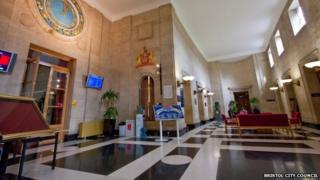 Monday ushers in a new era of decision making for Bristolians and one in particular.
The city, home to more than 441,000 people, is waiting to see what changes its newly elected mayor, architect George Ferguson, will make.
On Friday the independent candidate was declared the winner with a total of 37,353 votes, six thousand more than second-placed Marvin Rees of Labour.
Having lived and worked in the city for 47 years, he is being handed the reins of Bristol City Council and its £1bn a year turnover.
"It is a very big deal for Bristol," said Dr David Sweeting, an Urban Studies lecturer at the University of Bristol.
"On day one of the job I hope he will be feeling elated and optimistic at the chance to lead the city.
"It is a new role, a big organisation and a big city."
Mr Ferguson will be in charge initially for four years and cannot be voted out by councillors or removed by voters.
He faces challenges on many fronts including transport, care for the elderly and building an Arena in the city.
Dr Sweeting hopes an impact will be made quickly but knows it will take time for him to find his feet.
"I think Tony Blair said he was better equipped to be Prime Minister at the end of his term than at the beginning," he added.
"You would hope that [he] would make a pretty big impact, especially in saying 'I'm here to lead Bristol; I'm not only here for the city council services but I'm also here for the city'."
Anne Miller, a Bristol-based business coach, said the mayor will want to make a "good first impression" which is about "being authentic with a good balance of authority and receptivity".
"Image, body language, facial expression and your voice will all add to the confidence you want to project."
Business 'about trust'
That image can be bolstered through appropriate styling and colour, according to image consultant Sam Bell who runs Pixie Belle in the city.
She says business leaders have moved away from formal dress in place of a 'smart casual' approach.
"Business has become more about trust and building relationships, and because of that we have tried to push aside the idea of 'man in suit' and become more part of the community," she said.
Colours say a lot as well, according to Mrs Bell, with authoritative leaders being directed towards black or charcoal grey clothing, team players in browns while blue is said to be the colour of trust.
But at the end of the day it will not be his outfit - the new mayor is fond of wearing red trousers - that earns the trust of the people of Bristol. What he does with his four years in office will be what counts.