Spire cardiac centre in Bristol to ease NHS lists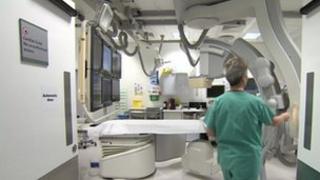 A newly-opened private cardiac centre in Bristol hopes to treat up to 500 NHS patients a year to help ease waiting lists.
The £1.5m cardiac suite at Spire Hospital will treat about 20 patients a month over the next four months.
Cardiologist Dr Edward Duncan said this was the first time complex procedures had been offered in a private hospital in the region.
Previously patients had to go elsewhere.
Hospital director Rob Anderson said: "I think it is our responsibilities to work in partnership with the NHS and ensure what we do is to make Bristol the regional centre for cardiology."
BBC Points West's health correspondent Matthew Hill said in the past private hospitals were accused of cherry picking the easy operations for NHS patients however this new centre could offer highly complex and technical operations.
The move is part of the government's health reforms which call for patients to be given the choice to be treated in the private sector.