M5 near Bristol shut overnight for bridge removal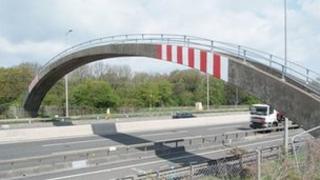 The M5 near Bristol was closed in both directions on Saturday night so that an overhead bridge could be dismantled.
The motorway between junctions 17 and 16 northbound as well as 15 and 17 southbound was closed from 19:00 GMT. It reopened on Sunday.
The footbridge just south of junction 16 (Aztec west) was taken down as part of an £88m upgrade of the local motorway network.
A new pedestrian bridge will replace the 220-tonne concrete crossing.
This will mean high-sided vehicles will be able to pass under when the hard shoulders are used as running lanes at peak times as part of measures being brought in to ease congestion.