Portishead air fuel storage plans blocked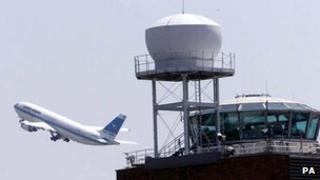 Plans to store almost 20,000 more tonnes of aviation fuel at a coastal base next to homes on the edge of Portishead have been blocked.
The proposal to extend the depot at Redcliffe Bay had been recommended for approval by planners.
But North Somerset councillors have voted against the advice and rejected the application, saying they want more information about the depot's safety.
It will now be referred to a planning and regulatory committee next month.
Safety fears
The base was built by the Ministry of Defence as part of a network providing fuel to military air bases via underground pipes.
Now the centres are used almost exclusively to pump fuel to commercial airports such as Heathrow.
The government's Oil and Pipelines Agency wants to bring three tanks capable of holding more than 19,000 tonnes of fuel at a time back into use. Currently five tanks are being used to store the fuel, two tanks hold waste and another holds water for safety.
The agency said the move was driven by demand for extra supplies from airports.
The council received 20 letters, mainly from residents, objecting to the plans on safety grounds, while Portishead Town Council said it was concerned over the route's safety as it is near residential areas including three schools.
Councillors said they could not approve the plans until they had more information about the site's safety from the Health and Safety Executive.
The Oil and Pipelines Agency said it did not want to comment.