Bristol mayor: How much should they be paid?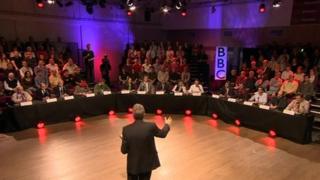 Some cheered, some applauded and others laughed as Bristol's mayor hopefuls told an audience what they would like to be paid if elected.
This was the first question in the BBC's mayoral debate - the first hustings in the campaign which brought together all 15 candidates.
As nerves settled and voices warmed up, the 14 men and one woman were asked what salary they believed the post should receive.
A decision on pay has been deferred until January when the successful candidate will already be in the job and leading the city council.
An independent panel has recommended a salary of £65,738, but this sum previously received fierce debate from councillors.
'About equality'
During the hustings, some candidates said they would accept that recommendation, three said they would take an average workers wage, and one said he wanted payment in Bristol Pounds - a new city currency.
No candidates suggested a figure higher than £65,000, although one candidate said the role was "worth millions" to the city.
Green party candidate Daniella Radice told the audience at Bristol Cathedral School that she would "be fine" on an average salary as long as she could cover child care costs.
Ms Radice said "It's saying you're the same as everyone else - it's about equality, equality is what matters."
Two other candidates said they would opt for an average salary - Neil Maggs (Respect) and Tom Baldwin (Trade Unionists and Socialists Against Cuts).
Mr Maggs said he had pledged to take the average salary as the mayor should "lead by example" whereas Mr Baldwin added it was a question of democracy because you cannot represent people "unless you understand how it is to live as they do".
Bristol Pounds
Bristol 1st candidate George Ferguson said the role was worth "millions" to the city although he did not want to be paid that and would accept the ruling of an independent commission.
He said he would even happily be paid in Bristol Pounds, a currency launched in September to keep trade in the city.
Three candidates - Marvin Rees (Labour) and Independents Owain George and Stoney Garnett - said they thought £65,000 was a fair salary for the new role.
Mr Rees said the mayor "needs to be taken seriously around the world", Mr George said it would be a "difficult job" and "you get what you pay for", and Stoney Garnett said it was quite a lot of money but he "would not refuse it". The audience laughed.
Other suggested salary figures included £40,000 (Rich Fisher, Independent), £42,000 (Tony Britt, Independent) and £50,000 (Spud Murphy, Independent).
Mr Britt added that he would not worry "as long as I've got enough to pay my bills", Mr Fisher said the wage should be enough to buy a standard three-bedroom Victorian house, and Mr Murphy said money did not really come into it because it was more about wanting to "put Bristol in the right place".
'Demeaning'
The remaining five candidates did not give a specific figure when asked.
Conservative candidate Geoff Gollop said he would go with an independent recommendation rather than one which had been influenced by the mayor.
He said it would be "demeaning" and "inappropriate" for the mayor to be involved in a public debate about his or her wage.
Tim Collins (Independent) said the new mayor could be covering four times as much work as an MP so if the recommendation was to be paid the same as an MP then he would "want to be remunerated properly".
The Birthday Party candidate Dave Dobbs said he understood that half of the council's £800m was spent on wages which needed bringing into line.
"Let's bring all the wages in local government down to the mayor's wage," he added.
Philip Pover (Independent) said "every £100,000 paid to one individual is £100,000 which could be better spent on services".
Finally Jon Rogers, the Liberal Democrat candidate, said there was currently "a really tough financial situation" in Bristol and a salary could not be set when so little was known about the brand new role.
In Leicester, Mayor Sir Peter Soulsby was elected in May 2011 but it took until March of this year to agree a £65,000 pay deal for him.
He first began working on a salary of £56,000, but a local panel then recommended it rise to £100,000 which was rejected before the final sum was approved.
Elsewhere in England, Salford's elected mayor is paid £69,000, Liverpool's mayor gets £66,000 and the Torbay mayor, in Devon, is donating half of his £60,000 annual salary to community groups for the next four years.